Romance tree house
Dreaming between trees – in German's largest tree house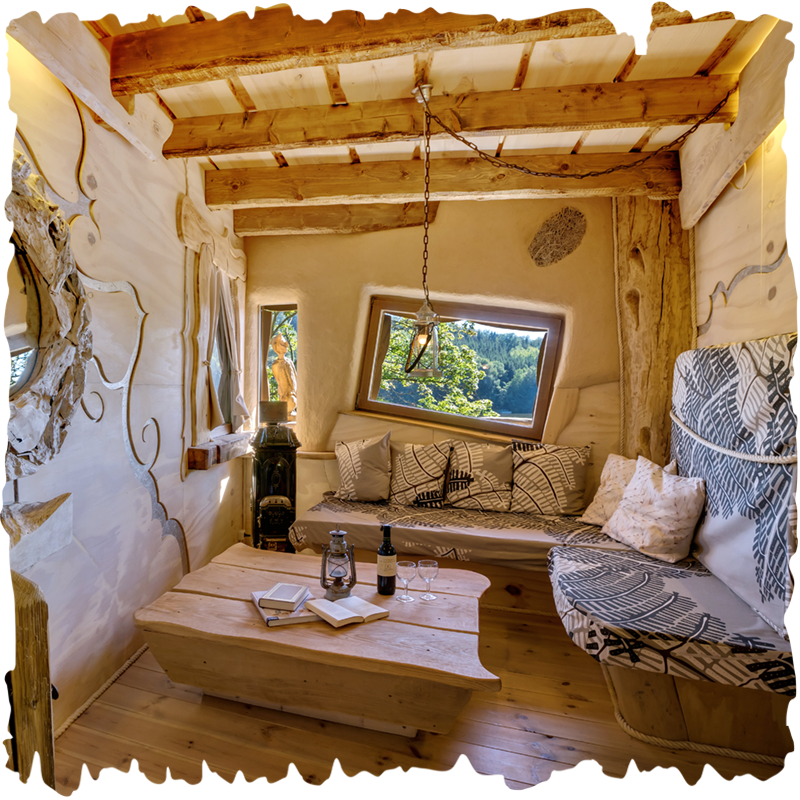 Dimensions: 8x5m, height 28 m, clamped in 180-year-old oaks
1st floor: hall – chimney room (sofa bed 2 adults) – bedroom (canopy bed 2 adults) – girls bathroom (floor heating, cistern shower, stone sink)
2nd floor: large kitchen-cum-living room (sleeping couch 2 adults), sun terrace
3rd floor: large sleeping loft (2 adults) with lake view, in total: 83sqm
Occupancy: up to 4 persons 520, – €/night – up to 4 additional persons each 35 €/night
Breakfast basket (to order & pay locally):
15, – € per adult, 10, – € per child under 10 years

Self-catering is possible in the tree house tavern or in the in-house kitchen
Bring along: sleeping bag or cuddly duvet, pillow, towels & a portion of curiosity, collection object like cups for the tree house tavern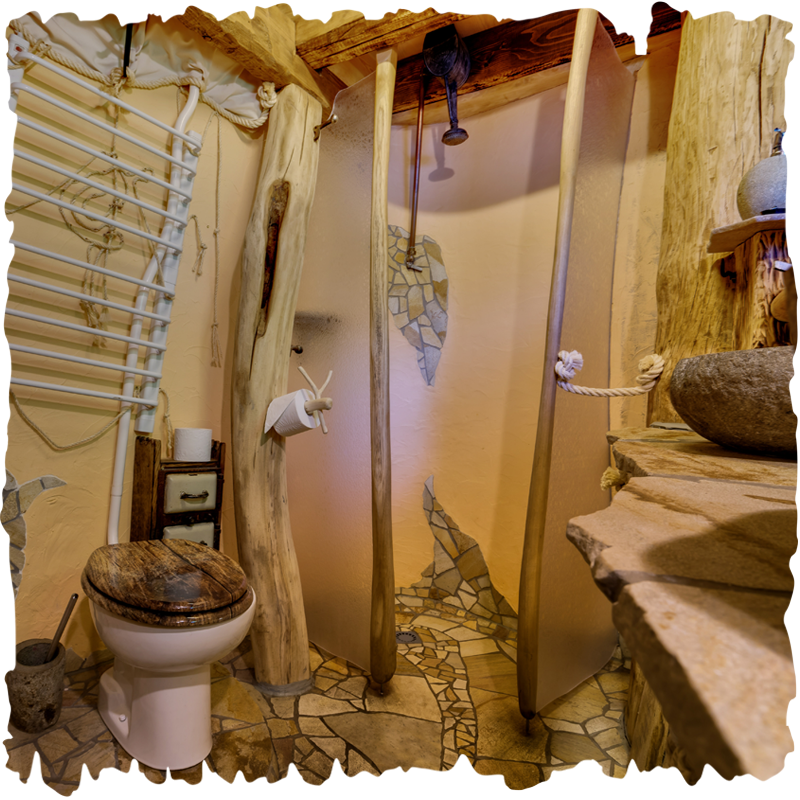 Spectacularly located by the river, our largest tree house offers 80 square meters of space for up to 8 people. All rooms are air-conditioned in summer and heated in winter (heat pump underfloor heating)
1st floor entrance, fireplace room with sofa bed (2persons), bedroom with full-size bed (2persons) and the "girls bathroom" with stone sink & cistern shower.
The countless details and carvings make the tree house a very cozy place that invites you to dream.
By the oak trunk spiral staircase you reach the first floor and the living and dining area.
The lovingly designed kitchen invites you to sizzle and feast. To relax, just use our family hammock on the very spacious sun terrace (25 sqm).
By a rope ladder our guests reach the large sleeping loft at a height of 27 meters with a wonderful view of the reservoir.